Please contact us if you need any Help, Advice or Further Information
To establish the correct size for your New Blinds, accurately measure the opening for both the Width and the Drop in 3 places as shown.
State if the measurement taken is 'Inside Recess' or 'Outside Blind Size'
Recess Blinds are supplied -12mm Smaller on Ordered Width for clearence.
Blind Size Blinds are supplied at the Width as ordered.
Measure in 'mm' for a more acurate Finish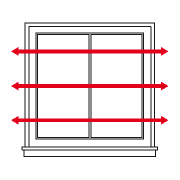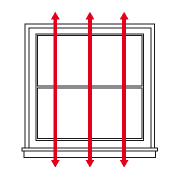 Consider how you want the Blinds to operate and decide if you want the controls on the Left or Right Hand side of the Blind.
For example, Standard Wood Blinds are R/H Raise + L/H Tilt Control.
Look for the different Options available for the your Type of Blind.
Please contact us if you need any Help, Advice or Further Information